The Best Utah Moving Company
The
Rocky Mountain Movers
team looks forward to making your moving experience an easy process. Our licensed and insured moving company located in Salt Lake City, Utah understands the stress that comes with moving. We focus on making the overall moving experience better by taking the time to work directly with each customer. We are locally-owned and operated and our team is committed to customer satisfaction. Our professionals are highly trained in moving items of all sizes. Call our office today and let us do the heavy lifting!
Our Moving Services
Rocky Mountain Movers provides complete moving services within Utah, as well as 9 of the Intermountain western states. Those states include Wyoming, Oregon, Washington, New Mexico, Montana, Colorado, Arizona, Idaho, and Nevada. We're the best movers in Utah, and surrounding states.
Commercial Moving

As commercial movers, we cater to the needs of your business. Our professional movers can help your company relocate offices quickly and efficiently. We provide business and office moving, medical equipment moving, computer moving, copiers, and more. Contact our Salt Lake moving company to discuss your commercial moving needs.

Retirement

There comes a time when you need to move a family member into a retirement or assisted living facility. There are many great communities to choose and Rocky Mountain Movers can help make moving a great experience for you and your loved ones. Scheduling your move is an easy process with our retirement moving crews available both mornings and afternoons. Call our office today to get more information.

Packing Supplies & Crating

Are you planning to pack yourself or do you need assistance with packing? Rocky Mountain Movers offers a full range of packing supplies and crating services. Besides providing moving boxes and supplies, we provide packing tips to ensure your belongings are packed appropriately and will not break during the move.

Storage

Do you need your belongings stored? Our clean and spacious storage facility, located in Salt Lake City, is ideal for your short or long term storage needs. When you store your belongings with Rocky Mountain Movers, you can be confident that your belongings will be safe.

Onsite

Moving

, Single Item

Moving

,

and

Short Notice Moves

Do you have an oversized or heavy item that needs to be moved? Rocky Mountain Movers provides single item moving services. Every move is unique and we can cater our pricing to fit your single item job. We also offer on-site moving and short notice moves. We pride ourselves on flexibility and being able to help our customers with last minute moves and all of their moving needs.

Piano and Organ Moving

Piano moving is a complicated and technical task that requires the right team of movers who know how to move the piano safely and correctly. Pianos and organs are special to our customers. We understand the sentimental value of your piano and promise to treat it with respect as if it were our own.
Why Rocky Mountain Movers is the Best
Finding the right movers to trust with your valuables is important. Rocky Mountain Movers has a team of people you can trust. Honesty and integrity are two of the most important elements to a moving company, and we are proud to have team members who continue to bring these qualities to work each day.
Take a minute to browse through our reviews to learn more about our satisfied customers and the hard work we put into every job. Here are some other reasons why we are Utah's leading moving company:
Local Salt Lake City Movers – Rocky Mountain Movers is located in the heart of Salt Lake City. Our team knows their way around Utah neighborhoods, and is able to move you into your new home safely and efficiently.
Affordable Prices – Moving can be expensive, so we focus on setting realistic prices that will work with your budget. Contact our office to discuss your move and to schedule a free estimate.
Trustworthy Team – We have high standards for our employees and only bring in people who pass our screening process. We treat each customer with respect and also treat your belongings as if they were our own.
Open Communication – Do you have special requests or concerns about items that are being moved? Rocky Mountain Movers works hard to keep the lines of communication open with our customers. Our staff members will work with you to answer all of your questions that may arise during the moving process.
Legal Paperwork – We are a fully licensed and insured moving company in Utah. Our legal paperwork is another important element to show our dedication to helping our customers with their move.
Damage Policy – Rocky Mountain Movers is so confident in our moving abilities that we back our services with a damage policy. Please ask your moving coordinator to explain the options.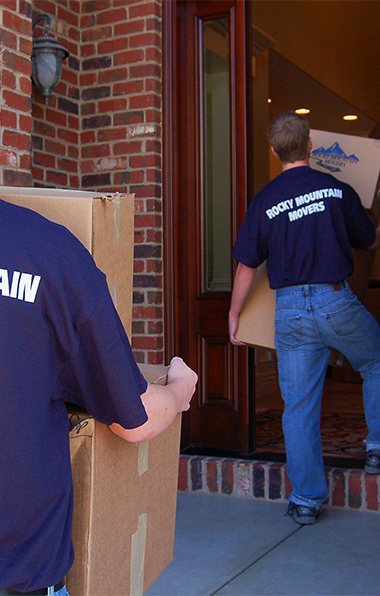 Areas of Service
Rocky Mountain Movers provides effective moving services to customers all over Utah and the intermountain western states. Our Salt Lake City movers can efficiently move you throughout the Wasatch Front. We commonly provide moving services to the following areas:
Salt Lake County
Weber, Davis, and Cache Counties
Utah, Wasatch, and Summit Counties
All other counties in Utah
Southern Utah Areas including St. George and Washington
Intermountain western states including: Arizona, Colorado, Idaho, Montana, Nevada, New Mexico, Oregon, Washington, and Wyoming
We provide long-distance moving services in or out of Utah. Contact our Salt Lake City office to discuss your long-distance move. When moving either local or long-distance, you can trust the experts at Rocky Mountain Movers. We work hard to ensure your belongings are transported safely, efficiently, and on time. If you want the best moving company in Utah, contact Rocky Mountain Movers today, 801-839-4940!